Germany is predominantly a Christian country. However, there are also followers of the Hindu religion in Germany. In fact, as much as 0.1% of the population of Germany follows the Hindu religion.
So, Hinduism is a minority religion in Germany. There are about 100,000 Hindus in Germany.
In this post, we share with you the list of Hindu Temples in Germany.
Hinduism in Germany
There are about 100,000 followers of the Hindu religion in Germany. Most of these Hindus are from Sri Lanka (Tamil Hindus). In fact, there are around 50,000 Tamil Hindus from Sri Lanka.
There are about 40,000 Hindus of Indian origin in Germany. There are about 7500 Hindus of German or European ancestry, and there are around 5000 Hindus originally from Afghanistan. There are also very few Hindus from Nepal in Germany.
Plus, there are Hindus in Germany who follow New religious movements like Hare Krishna Movement, Bhakti Yoga, and Transcendental Meditation. However, their numbers are very low in Germany.
It all started in the 1950s when Indian Hindus started to migrate to Germany.
In the 1970s, Tamil Hindus from Sri Lanka arrived as asylum seekers in Germany.
According to statistics furnished from REMID, there were approximately 130,000-150,000 Hindus in Germany in 2017.
There are also 700 Balinese Hindu families living in Germany.
7 Popular Hindu Temples in Germany
Hindus who live in Germany have established temples all over the country. Hindu temples in Germany contribute to the religious and cultural diversity of the country. Here, we share with you some of the well-known Hindu temples in Germany.
1. Sri Ganesha Hindu Temple in Berlin
Sri Ganesha Hindu Temple in Berlin is dedicated to Lord Ganesha, one of the most famous Hindu deities. Lord Ganesha is widely worshipped in India, Sri Lanka, Nepal, and Thailand.
Hundreds of devotees visit the Sri Ganesha Temple in Berlin to pray to the elephant-headed God of wealth and prosperity.
ISKCON (International Society for Krishna Consciousness) has established hundreds of temples dedicated to Lord Krishna worldwide.
The ISKCON Temple in Heidelberg is known as Bhakti-Yoga-Center (or Hare Krishna Temple). It has been around for over 20 years.
Although the temple has a simple architecture, it attracts hundreds of devotees from diverse backgrounds.
This temple has a peaceful ambiance. Many rituals and festivals are celebrated in the temple all over the year, in-depth religious teachings are also imparted in this temple.
3. Sri Kamadchi Ampal Temple, Hamm
Sri Kamadchi Ampal Temple in Hamm is the largest Hindu Temple in Germany. It is also the second-largest Hindu Temple in Europe. This temple started as a small place of worship in a basement, and the temple evolved as the largest Hindu Temple in Germany.
The Sri Kamadchi Ampal Temple in Hamm has been modeled after the Kanchi Kamakshi Temple in India. The temple has breathtaking architecture adorned with many intricate sculptures carved by Indian artists especially flown in for this job.
The temple houses an idol of the Goddess Kamakshi. It also has an additional 200 idols of other deities. A multitude of rituals and other religious festivals are held in the temple every year. Hindu weddings are also hosted in the temple.
4. Sri Nagapoosani Ambal Temple in Frankfurt
The Sri Nagapoosani Ambal Temple is located in Frankfurt, Germany. It is dedicated to the Hindu Goddess Sri Nagapoosani Ambal. She is a deity who wears a snake-like necklace around her neck.
It is believed that she brings wealth to her devotees. She also protects the devotees from bad luck and blesses childless couples with children.
The temple sees daily rituals. In addition, various festivals are also organized in the temple attended by devotees from all corners of the city.
5. Sri Hindu Mandir in Hamburg
The Sri Hindu Mandir in Hamburg can be described as a nondescript building. This temple is located in the heart of Hamburg. The temple holds a big surprise package as you step inside it.
The Sri Hindu Mandir has massive interiors. It is highly ornate and is beautifully maintained. The temple is visited by hundreds of devotees who love its calmness and serenity.
Various rituals are performed in the temple. Many festivals are also celebrated in the temple every year. Worship of multiple deities is performed in the temple with full devotion.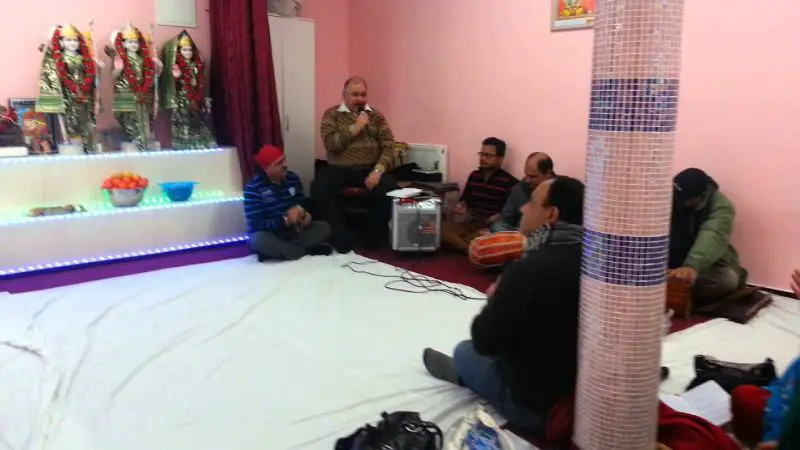 Sri Muthu Mariamman Temple in Hannover is the largest Hindu Temple in North Germany. It is managed by Hannover Tamil Hindu Cultural Association. It is a three-story ornate temple.
The temple is dedicated to Goddess Muthumariamman, who is a goddess of good health and rain. Goddess Muthumariamman is a manifestation of the most important Hindu deity Parvati.
The temple also has idols of other deities such as Ganesha, Murugan, and Navagraha. These are handcrafted idols that were flown in from India.
7. Afghan Hindu Congregation in Cologne
The Afghan Hindu Congregation Temple was established by Afghan Hindu families living in Cologne, Germany. They got immense support from German authorities.
This temple has grown in size over the past many years. The temple extends a warm welcome to people from different regions of the city.
The temple has been modeled after a typical Indian Hindu temple. It is colorful, beautiful, and ornate; the temple holds a big prayer service every Sunday. This temple is not devoted to any particular Hindu deity. However, the temple draws hundreds of devotees each day. Prayers for specific deities are usually performed in the temple.
Now, we list out some of the most famous Hindu Temples in Germany sorted by state.
Here, we go:
Berlin
Ramayan Hari Krishna Temple, Berlin
Jagannath-Temple Berlin (ISKCON)
Mayoorapathy Sri Murugan Temple, Blaschkoallee 48, 12359 Berlin
Pura Tri Hita Karana, a Balinese Temple
Hessen
Karpaga Vinayagar Temple, Frankfurt
Sri Shirdi Sai Baba Temple Frankfurt, Germany
Vishwa Hindu Parishad, Frankfurt
Bremen
Bremen Sri Varasiththivinayakar Temple, Bremen
Baden-Württemberg
Sri Sithi Vinayagar Kovil e.V., Stuttgart
ISKCON Wiesbaden, Wiesbaden
Nordrhein-Westfalen
Manawa Bharti Temple, Lenaustraße 01, 40470 Düsseldorf [5]
Sri-Kurinjikumaran-Temple, Industriestraße, Gummersbach
Sri Venkateswara Perumal Temple e.V., Hamm
Sri Sithivinayagar Temple, Ferdinand Poggel Straße, Hamm
ISKCON Köln e.V., Bhakti-Yoga-Zentrum Gauradesh, Köln
Well, that's all in this post on the list of Hindu Temples in Germany. We hope that you found the post beneficial.
Thanks for visiting us at HindUtsav.