India is a land of festivals. Its rich cultural heritage offers scores of rich and varied festivals celebrated with great joy, devotion, and enthusiasm.
In fact, festivals are an essential part of the life of every Indian. They confer a unique dimension to India, which goes on to make it truly 'incredible.'
Ganesh Chaturthi is one such festival that holds a special place in the rich panorama of Indian Festivals.
Ganesh Chaturthi Festival
Ganesh Chaturthi is also known as Vinayaka Chaturthi or Vinayaka Chavithi or simply as Ganesh Puja. It is dedicated to Lord Ganesh. It is a Hindu festival that is celebrated in honor of the Elephant-Headed God – Lord Ganesh.
About Lord Ganesh
Lord Ganesh is one of the most popular Hindu Gods and is worshipped at the beginning of every auspicious performance for blessings. He is considered as the Lord of Success and destroys evils and obstacles that hold in the way of his devotees.
He is also worshipped as the God of Education, Knowledge, Wisdom, Good Fortune and Wealth. Devotees call him by different names, such as Vinayaka (knowledgeable) or Vighneshwar (Remover of Obstacles). He has four hands, an elephant's head, and a big belly. His vehicle is a tiny mouse.
In his hands, Lord Ganesh carries a rope (to guide devotees on the path of truth), an ax (to destroy devotee's obstacles and cut their attachments), and a sweet dessert ball of laddoos (modakas). His fourth hand's palm is always extended to bless people with success. His whole persona signifies tremendous intelligence, wisdom, and presence of mind.
Ganesh Chaturthi Information
Ganesh Chaturthi has the reputation of being one of India's foremost festivals, which is celebrated with great pomp and show throughout India (especially in the state of Maharashtra) and various parts of the world.
The festival is celebrated to mark the birthday of Lord Ganesh. It is observed in the month of Bhadrapada (according to the Hindu calendar) on the day of Shukla Chaturthi (fourth day of the waxing moon period) and lasts for ten days. It culminates on Anant Chaturdashi (the fourteenth day of the waxing moon period). It usually falls between mid-August and mid-September.
Ganesh Chaturthi – History
The festival of Ganesh Chaturthi originated in the Maratha region. Chatrapati Shivaji is credited to start the festival celebrating it as a public event.
However, the present form of the festival was introduced by Bhausaheb Laxman Javale in 1892 when he installed the first Sarvajanik (Public) Ganesh Idol – Shrimant Bhausaheb Rangari Ganapati at Bhudwar Peth in Pune, Maharashtra.
In 1893, Lokmanya Tilak applauded the concept of Sarvajanik Ganesh Utsav in Kesari Newspaper. He then installed Ganesh Idol in Kesari Wada, Pune, and started preaching Ganesh Utsav.
Ganesh Festival – Legend
According to Hindu belief, Ganesh Chaturthi is celebrated to honor Lord Ganesh's birth, the son of God Shiva and Goddess Parvati. There are various stories attached to his birth. However, we put across to you the most relevant story.
Goddess Parvati created Ganpati out of her sandalwood paste in the absence of Lord Shiva. She put him to guard while she had gone for bathing. Meanwhile, Lord Shiva returned and saw Ganesh guarding the house, who refused to enter as per his mother's orders.
It angered Lord Shiva so much that he cut off Ganesha's head. When Parvati saw this dreadful sight, she was very much grieved and took Goddess Kali's form and threatened to destroy the world.
Lord Shiva consoled the Goddess that he would surely bring back the child to life. So, he ordered his Ganas (followers) to search for a child whose mother has her back towards her child in negligence and bring his head.
His followers brought the head of a baby elephant, which Lord Shiva placed on Ganesha's body, and instilled him to life once again. It calmed Goddess Parvati, and she was overwhelmed. All the Lords blessed Ganesh.
The day is today celebrated to honor the birth of Lord Ganesh.
How to celebrate Ganesh Chaturthi?
It is considered that on Ganesh Chaturthi, Lord Ganesh comes down on earth to give blessings to his devotees. The festival is celebrated with great enthusiasm and joy. The preparations begin almost a month before the festival, and the festival is celebrated for around ten days beginning from Bhadrapad Shukla Chaturthi to Ananta Chaturdashi.
The clay model of Lord Ganesh is brought and installed on the first day of the festival in homes, offices, organizations, and public places.
The size of Ganesh Idol varies from ¾ inches up to 25 feet. Ganesh Idols are usually kept on an elevated platform. Every section of society tries to bring Ganesh Idol and worship the Lord on Ganesh Chaturthi. Outdoor Pandals are organized where people come and pay homage to Lord Ganesh.
Here, the priests perform rituals and sing praises, bhajans, and prayers in honor of Lord Ganesh. The Idol is given a bath with pure water (usually Ganga Jal) and then decorated with flowers and ornaments. The Idol is then draped in colorful robes. Aarti is sung, and mantras are chanted.
The sacred mantra for invoking Lord Ganesh's blessing is – "Om Gam Ganapataye Namaha."
It is believed that chanting the mantras with complete devotion brings life to the idol. It is also believed that during this period, Ganesh visits the home of his devotees and bring prosperity and good fortune with him.
Various offerings are presented to the Lord in the form of flowers, scent, laddoos, modakas, incense, etc. Everyone comes dressed in colorful clothes, and there is an atmosphere of joy and festivity all-around. Temples witness the visit of large numbers of devotees.
Poojas are performed, and bhajans are chanted in Ganesh Temples. The Lord is worshipped for all the ten days of the festivals. On the eleventh day, the procession is organized through the streets, and Ganesh Idol is finally immersed in a water body such as a lake, river, or sea. Praises are chanted, people sing and dance all the along the way during the procession.
People sing aloud "Ganapati Bappa Morya, Purcha Varshi Laukariya," which means people pray to Lord Ganesh to come early next year. Before immersing it in a water body, people offer flowers, camphor, and coconut to the Ganesh Idol. Various Social Organizations also take part in this celebration.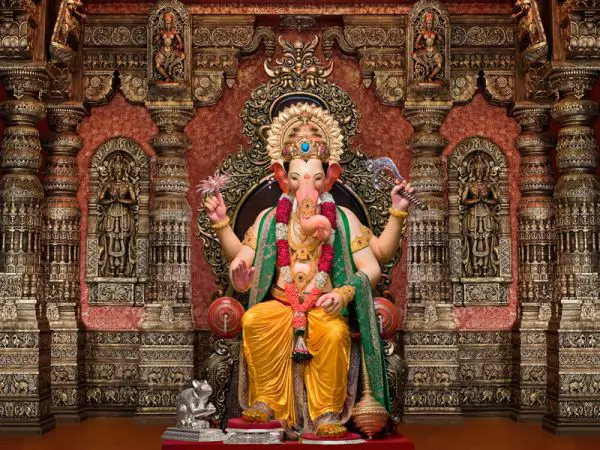 They organize blood donation camps, free medical check-up camps, do charitable works. Dramatic performances are organized, and many cultural activities are arranged.
Today, Ganesh Chaturthi has taken the form of a community event celebrated with great passion, joy, and enthusiasm. Local communities compete to put up the biggest and best Ganesha statue and display. Expect very crowded streets, filled with boisterous devotees and lots of music. People from all walks of life participate in the grand festival and celebrate it to transform their lives in all dimensions.
Lastly, I take this opportunity to wish all my beloved readers "Very Happy Ganesh Chaturthi."
Ganesh Chaturthi Date
| Date | Month | Year | Day |
| --- | --- | --- | --- |
| 31st | August | 2022 | Wednesday |
| 22nd | August | 2020 | Saturday |
| 2nd | September | 2019 | Monday |
| 13th | September | 2018 | Thursday |
| 25th | August | 2017 | Friday |
| 5th | September | 2016 | Monday |
| 17th | September | 2015 | Thursday |