Festivals are part of India and we can say India is a country of the festival. We love to celebrate festivals not just because for entertainment because it brings us closer to God and spirituality.
Festival brings happiness in our life and helps us to remember God and values human being must follow. We are celebrating festivals from hundreds and thousands of years. Festival keeps us closer to our religion.
There are plenty of religions in India and we all celebrate the festival together. Have a look on 2016 festivals dates.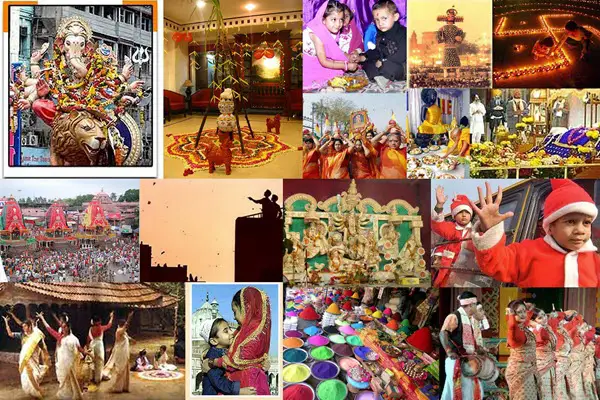 2016 Festival Calendar
| | | |
| --- | --- | --- |
| 01 | Friday | English New Year |
| 14 | Thursday | Lohri |
| 15 | Friday | Pongal, Makar Sankranti |
| 16 | Saturday | Guru Gobind Singh Jayanti |
| 20 | Wednesday | Tailang Swami Jayanti |
| 23 | Saturday | Subhas Chandra Bose Jayanti |
| 26 | Tuesday | Republic Day |
| 31 | Sunday | Swami Vivekananda Jayanti |
| | | |
| --- | --- | --- |
| 12 | Friday | Vasant Panchami |
| 22 | Monday | Guru Ravidas Jayanti |
| | | |
| --- | --- | --- |
| 04 | Friday | Maharishi Dayanand Saraswati Jayanti |
| 07 | Monday | Maha Shivaratri |
| 10 | Thursday | Ramakrishna Jayanti |
| 20 | Sunday | Vernal Equinox, Parsi New Year |
| 23 | Wednesday | Chhoti Holi, Holika Dahan |
| 24 | Thursday | Holi |
| 25 | Friday | Good Friday |
| 26 | Saturday | Shivaji Jayanti |
| 27 | Sunday | Easter |
| | | |
| --- | --- | --- |
| 01 | Friday | Bank's Holiday |
| 08 | Friday | Gudi Padwa, Ugadi |
| 09 | Saturday | Jhulelal Jayanti |
| 13 | Wednesday | Solar New Year, Baisakhi |
| 14 | Thursday | Ambedkar Jayanti |
| 15 | Friday | Rama Navami |
| 19 | Tuesday | Mahavir Swami Jayanti |
| 21 | Thursday | Hazarat Ali's Birthday |
| | | |
| --- | --- | --- |
| 03 | Tuesday | Vallabhacharya Jayanti |
| 07 | Saturday | Rabindranath Tagore Jayanti |
| 11 | Wednesday | Shankaracharya Jayanti, Surdas Jayanti |
| 21 | Saturday | Buddha Purnima |
| | | |
| --- | --- | --- |
| 07 | Tuesday | Maharana Pratap Jayanti |
| 20 | Monday | Kabirdas Jayanti |
| 21 | Tuesday | Longest Day of Year |
| | | |
| --- | --- | --- |
| 01 | Friday | Jamat Ul-Vida |
| 06 | Wednesday | Jagannath Rathyatra |
| 07 | Thursday | Eid al-Fitr, Ramadan |
| | | |
| --- | --- | --- |
| 10 | Wednesday | Tulsidas Jayanti |
| 15 | Monday | Independence Day |
| 18 | Thursday | Rakhi, Raksha Bandhan |
| 25 | Thursday | Krishna Janmashtami |
| | | |
| --- | --- | --- |
| 05 | Monday | |
| 13 | Tuesday | Onam, Eid al-Adha, Bakrid |
| 22 | Thursday | Autumnal Equinox |
| | | |
| --- | --- | --- |
| 01 | Saturday | Maharaja Agresen Jayanti |
| 02 | Sunday | Gandhi Jayanti |
| 03 | Monday | Al-Hijra, Islamic New Year |
| 09 | Sunday | Durga Ashtami |
| 10 | Monday | Maha Navami |
| 11 | Tuesday | |
| 12 | Wednesday | Day of Ashura, Muharram |
| 16 | Sunday | Valmiki Jayanti, Meerabai Jayanti |
| 19 | Wednesday | Karwa Chauth |
| 29 | Saturday | Narak Chaturdashi |
| 30 | Sunday | |
| 31 | Monday | Gowardhan Puja |
| | | |
| --- | --- | --- |
| 01 | Tuesday | Bhaiya Dooj |
| 06 | Sunday | Chhath Puja |
| 14 | Monday | Guru Nanak Jayanti, Nehru Jayanti |
| | | |
| --- | --- | --- |
| 12 | Monday | Milad an-Nabi , Id-e-Milad |
| 21 | Wednesday | Shortest Day of Year |
| 25 | Sunday | Merry Christmas |