Indian Festivals. They are simply magical!
Magical because they are the true embodiment of Celebrations, and what is Life without Celebration?
It is nothing.
Diwali is one such Indian Festival that provides a tremendous opportunity for Celebration. There are sweets, lights, firecrackers, and celebrations all around. Diwali has all the ingredients to make it the biggest, brightest and most magical festival in India. It is known as the "Festival of Lights" and is celebrated on the day of Amavasya – the darkest, new moon night of the Hindu Lunisolar month of Kartika.
However, in the midst of all Celebrations, there is one more aspect to Diwali celebrations: "Diwali Puja". Actually, Diwali Celebrations are incomplete without Diwali Puja. In fact, Diwali Puja is the most important part of Diwali Celebrations. According to Hindu Religion, each and every Festival involves some kind of unique Puja, and Diwali is no exception. On Diwali, there is a tradition of worshipping Lord Ganesh and Goddess Laxmi.
Since immemorial, Goddess Laxmi and Lord Ganesh have been worshipped on Diwali. Indian Households are religiously following this age-old tradition. Goddess Laxmi is believed to bless the devotees with wealth, prosperity, and happiness. Lord Ganesh blesses the devotees with knowledge and wisdom. Worshipping Laxmi and Ganesh leads to all-around progress in one's life.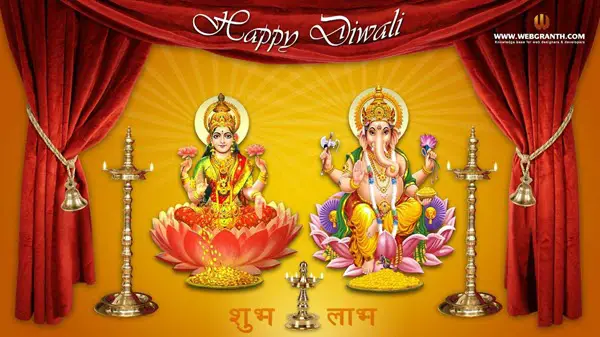 However, many devotees still have a relevant question in their mind, and that is – Why Laxmi and Ganesh are worshipped on Diwali, not Lord Rama? This seems to be an obvious query as Diwali commemorates the return of Lord Rama to his kingdom Ayodhya after 14 years of exile with Mata Sita and brother Laxman. During his exile, Lord Rama conquered the ten-headed demon Ravana, the king of Lanka.
To explain this question, we have to refer to Hindu Mythology. According to popular belief, when Lord Rama returned to Ayodhya after his exile, the first thing He did was worship Lord Ganesh and Goddess Laxmi. Since then, the tradition started to worship Laxmi and Ganesh on Diwali. It evolved into a religious custom to worship Laxmi and Ganesh on Diwali night as "Diwali Puja".
If you look closely, you too will appreciate the concept of worshipping Laxmi and Ganesh on Diwali. Lord Rama was himself the incarnation of God Vishnu – The Preserver of the Universe. His worshipping Laxmi and Ganesh remind us that we should always remember God first in whatsoever endeavour we undertake on this Earth.
Being the King of Ayodhya, He worshipped Laxmi and Ganesh to pray for the masses' well-being, happiness and prosperity. He believed that there would be all-around happiness in his kingdom due to their blessing. His people will be healthy, wise, and wealthy and will move ahead on the path of truth and righteousness.
And what better way to achieve this objective than to take the blessing of the All Mighty God in the form of Lord Ganesh and Goddess Laxmi? As Lord Rama represents "Ram Rajya" or Righteous Rule, it is right to follow in his footsteps and observe the tradition followed by Him. By worshipping Lord Ganesh and Goddess Laxmi, we not only worship Laxmi and Ganesh but also pay our sincere tribute to the King of Kings – Lord Rama.
By worshipping Laxmi and Ganesh, we invoke knowledge, intelligence, wisdom, health, wealth and prosperity into our life. Goddess Laxmi is the Goddess of all wealth, money and richness. While God Ganesh is considered God of wisdom, intelligence, success and prosperity. They remind us wealth becomes useful and a blessing only when one has the intelligence and wisdom to use it. It also reminds us that Money is only the means of achieving material things in this world. Ultimately one needs Spiritual Wealth to achieve Eternal Happiness.
So, we should religiously worship Laxmi and Ganesh on Diwali night and welcome their blessing in our lives. We sincerely hope that our explanation will remove any confusion in your mind regarding the Diwali Puja and Why Laxmi and Ganesh are worshipped on Diwali, Not Lord Rama.
Please Note: If you find any wrong information on this or any other article on our website, please correct us. These articles are written on the basis of our knowledge and research.