The beauty of historical monuments of India is simply mesmerizing. They are best examples of brilliant craftsmanship, and human imagination.
In fact, Indian historical monuments are recognized world over for their exceptional beauty and magnificence.
Historical monuments of India are at par in beauty and brilliance with the monuments of the world.
Today, we share with you a presentation showcasing 15 Historical Monuments of India.
These monuments portray history and the culture of the Indian sub-continent in the bygone age.
They are exceptional pieces of architecture built by the kings and emperors who ruled India.
These historical monuments express their ideas in bricks, marble, stone, and mortars. In fact, they are recognized as an excellent specimen of Indian history.
So, anyone interested in Indian history must visit these historical monuments.
Some of the famous historical monuments of India include the Taj Mahal, Charminar, Jantar Mantar, Old Churches of Goa, and many others.
Today, these structures are part of the wealth of Indian Tourism and are found in every nook and corner of this majestic country.
They depict tales of romance, bravery, strength, courage, and pride.
The magnificence of the bygone era comes live with these historical monuments of India.
In fact, it is only because of these structures that we want to know the Indian history in detail. These historical monuments are a true testimony of India's rich cultural heritage.
So, if you want to explore more about India's history, then you must surely visit the places holding these historical monuments.
However, sometimes it becomes difficult to list down all historical monuments of India.
Moreover, most of us want to know about historical places in India with pictures and information.
So, to help you out we have featured 15 Historical Monuments of India. It comes as a presentation with pictures and information about these famous monuments of India.
Here, you get to know the importance of historical monuments whether it's the Taj Mahal, India Gate, Golden Temple, Hawa Mahal, Mysore Palace, Fatehpur Sikri, and many others as well.
It's a comprehensive showcase of Indian monuments.
Well, it's just not possible to feature all monuments of India.
However, we have tried to cover and list down most of the monuments of India information.
So, let's begin and explore the 15 historical monuments of India.
These are true Wonders of India!
Here's the list for you:
15 Beautiful Historical Monuments of India
1. Taj Mahal, Agra
The Taj Mahal is the best example of Mughal architecture.
It was built by the Mughal Emperor Shah Jahan (1628 – 1658), the grandson of King Akbar, in the remembrance of his beloved queen Mumtaz Mahal.
Taj Mahal has been built using white marble.
This architectural marvel is also listed in the Seven Wonders of the World.
Taj Mahal is the ultimate epitome of Love.
In fact, the Taj Mahal is also regarded as the face of India.
It took 22 years to complete his grand and beautiful structure.
It was completed in 1648.
The Taj Mahal is in Agra and stands on the banks of holy river Yamuna in the state of Uttar Pradesh.
It combines Mughal, Turkish, Persian, and Indian architectural styles.
2. Gateway of India, Mumbai
This historical memorial was built during the British rule. The Gateway of India is a magnificent monument that was built to commemorate the royal visit of King George V and Queen Mary to Bombay.
It is built in the Indo-Saracenic style and remains as one of the finest examples of colonial architectural heritage in India. It was completed in 1924.
The Gateway of India was designed by the famous British architect, George Wittet. It is a grand structure and stands at the Apollo Bunder in Mumbai. It is the main tourist attraction in Mumbai.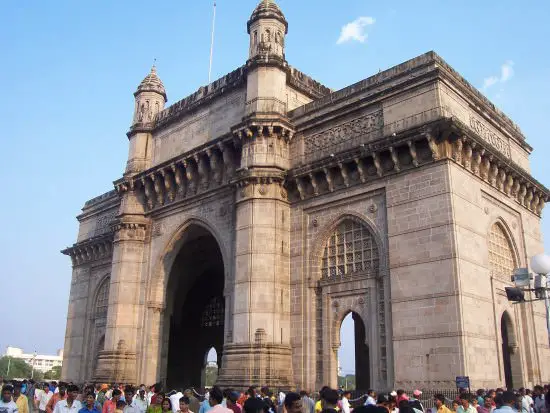 3. Hawa Mahal, Jaipur
The Hawa Mahal is also known as Palace of Winds.
It stands as a prominent and historic landmark of Pink City, Jaipur.
It is a five-story pyramidal building overlooking the busy streets of the city of Jaipur.
The Hawa Mahal is the epitome of Rajasthan architecture.
This splendid structure is a blend of beauty and grandeur.
It was built in 1779 by Maharaja Sawai Pratap Singh.
It is a main tourist attraction of Jaipur and has 953 small windows. It was built to help women to see the outside world without being seen by others. Pardah System was prevalent at that time.
At the top of the Hawa Mahal, one can see the stunning views of Jantar Mantar, City Palace, and Siredeori Bazaar. It has a ventilation system that is one of its kinds.
4. Charminar, Hyderabad
This 56m high triumphal arch is the best-known landmark of Hyderabad. The Charminar was constructed by Sultan Mohammed Quli Qutub Shah in 1591 for appeasing evil forces savaging this new city with plague and epidemic.
The Charminar stands tall in the heart of the old walled city and is surrounded by lively bazaars.
The Charminar is noted for its elegant balconies, stucco decorations and the small mosque on its 2nd floor. It has 149 winding steps leading to the top of structure from where the view is simply stunning. It looks absolutely stunning when lit in the evening.
5. Golden Temple, Amritsar
The gold gilded exteriors are the hallmark of this famous Sikh religious and historical monument in Amritsar.
The Golden Temple is popularly known as Sri Harmandir Sahib. It is the holist Gurdwara and perhaps the most important pilgrimage destination for the Sikh community.
The Golden temple is housed in a religious complex which also has a man-made pond that is believed to have healing powers.
Guru Arjun Dev – the fifth Sikh Guru, laid its foundation stone in 1589. In 1604, a copy of Adi Granth was placed in Harmandir Sahib by Guru Arjun Dev.
The temple complex was destroyed several times by Muslim invaders. It was rebuilt by Maharaja Ranjit Singh in 1809. He overlaid the main temple building with gold foil in 1830. So, it came to be known as Golden Temple.
6. India Gate, New Delhi
The India Gate is undoubtedly one of the most prominent and recognizable structures of the country. It has been crafted as the replica of Arc de Triomphe in Paris. It is a majestic monument and stands 42m tall in height.
The India Gate is dedicated to those 70,000 soldiers who lost their lives in World War I. It was completed in 1931 and has names of Indian martyrs carved on it.
After the Indo-Pak War in 1971, the Amar Javan Jyoti was added to the structure. Today, the India Gate is a major tourist attraction in Delhi.
7. Meenakshi Temple, Madurai
Meenakshi Temple is a fine example of the Indian architecture. It is located on the banks of Vaigai River in the temple city of Madurai, Tamil Nadu. This temple is surely the most famous edifice in South India.
A large number of devotees and architectural lovers throng the temple throughout the year. The shrine houses almost 33,000 sculptures in its 14 Gopuram, which is certainly a great feat in itself. The present structure was constructed between 1623 and 1655 CE.
The temple is dedicated to Goddess Parvati and her consort Lord Shiva in the form of "Meenakshi" and "Sundareswar" respectively.
8. Mysore Palace
The Mysore Palace is a spectacular monument of Mysore city. It is popularly known as the Maharaja's Palace. Mysore Palace was also known as Amba Vilas. The Mysore Palace is one of the largest palaces in India.
The Mysore Palace adopts the Indo-Saracenic style of architecture. It is a three-storeyed structure having a length of 245 feet and is 156 feet in breadth. It consists of a sequence of arched square towers enclosed by domes.
The Wodeyar Maharajas of Mysore resided in this palace. In fact, the original palace of Mysore was made out of wood which was accidentally burnt in 1897. It was rebuilt in 1912 by the 24th Wodeyar Raja.
9. Victoria Memorial, Kolkata
Victoria Memorial is perhaps the most spectacular building in Kolkata. In fact, it is one of India's most beautiful monuments. It is situated on the banks of Hooghly River near Jawaharlal Nehru road.
Victoria Memorial is a large marble building built between 1906 and 1921. It is dedicated to the memory of Queen Victoria (1819 – 1901). The Victoria Memorial now stands as a museum and has an extensive collection of colonial-era remnants. It is a major tourist attraction under the auspices of the Ministry of Culture.
10. Chhatrapati Shivaji Terminus, Mumbai
Chhatrapati Shivaji Terminus (earlier known as Victoria Terminus) in Mumbai was built in 1878. It is the best example of Victorian Gothic Revival architecture in India. The Chatrapati Shivaji Terminus is one of the busiest railway stations in India.
It is also the headquarters of the Central Railways. It was designed by British architect F.W. Stevens. The Chatrapati Shivaji Terminus is adorned with a stone dome, pointed arches, turrets, and has an eccentric ground plan.
11. Jantar Mantar, Jaipur
The Jantar Mantar is a famous astronomical observatory in Jaipur that was built by Raja Jai Singh between 1728 and 1734. It is a UNESCO World Heritage Site. It is even used today for astronomical observations and calculations.
The Jantar Mantar is visited by many tourists all throughout the year. In fact, Jai Singh built a total of five astronomical observatories in different parts of India.
The Jantar Mantar of Jaipur is the largest and the best preserved of the five. The other observatories were built in Delhi, Varanasi, Ujjain, and Mathura.
12. Fatehpur Sikri, Agra
It is a massive fort that was built by the Mughal Emperor Akbar the Great. Today, Fatehpur Sikri is enlisted among the UNESCO World Heritage Sites. It is visited by a very large number of tourists all throughout the year.
Fatehpur Sikri is situated at a short distance from Agra in the state of Uttar Pradesh.
It is an excellent piece of architecture of the Mughal era. This fort was once the capital of the Mughal Empire under King Akbar from the period 1571 to 1585.
It has several majestic buildings including the Panch Mahal, and Diwan-i-Khas. Fatehpur Sikri gives you a rich feel of medieval Mughal India.
13. Khajuraho Group of Monuments
The Khajuraho Group of Monuments is one of the most visited tourist destinations in India. It is the best example of erotic sculptures in India.
The Khajuraho monuments were built by the Chandela rulers between 10th and 11th Century AD. These widely acclaimed temples have numerous sculptures including the erotic ones. These Khajuraho Group of Monuments are perhaps the best example of architectural brilliance in the country.
14. Basilica of Bom Jesus, Goa
Basilica of Bom Jesus is one the most famous structure in Goa. It houses the mortal remains of St. Francis Xavier. It is a 17th century Church which reminds of the Portuguese era in India.
In fact, Basilica of Bom Jesus is one of the oldest churches in Goa and one of the most popular ones too. It boasts of fine Baroque architecture.
15. Bahai Temple (Lotus Temple), New Delhi
Bahai Temple which is popularly known as the Lotus temple is perhaps the best example of modern architecture in India. This lotus-shaped temple is the holy center for the Bahai sect.
The Bahai Temple sees a large number of tourists every day. It is awarded many times for its unique architecture. It is composed of 27 free-standing petal-shaped marbles which are arranged in clusters of three forming nine sides. Its nine doors open to 40m tall central hall that can hold up to 2500 people.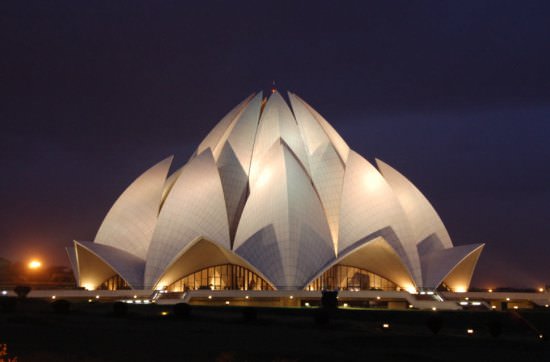 We hope that you would have enjoyed this compilation on 15 Historical Monuments of India. Please share the post with your friends and colleagues. We welcome your comments and suggestions.