Diwali or Deepavali is by far the most popular and extravagant festival of the Hindu Religion. Its significance is that Diwali is also celebrated by the followers of Buddhism, Jainism, and Sikhism in various forms and customs. It will not be an exaggeration to repute this festival as the biggest festival in India. Diwali is also celebrated in various parts of the world with equal enthusiasm. It is known as the "Festival of Lights."
Diwali or Deepavali is made up of two words – "Deep," which means Lamp or Diyas, and "Avali," which means a row of lamps. It symbolizes the victory of Goodness and the lifting of spiritual darkness. It is celebrated on the 15th day of the dark fortnight "Amavasya" in the Hindu month of Kartik. This usually falls in October or November.
Diwali has the status of being the favorite festival of Indians. Homes are decorated, lamps are lit, and sounds of firecrackers engulf the atmosphere to create a world of fantasy around us. The festivity and enthusiasm linked with Diwali go on to make it the most glamorous festival of India. It is also a gazetted holiday in India. Government Offices, post offices, and banks are closed in India on Diwali.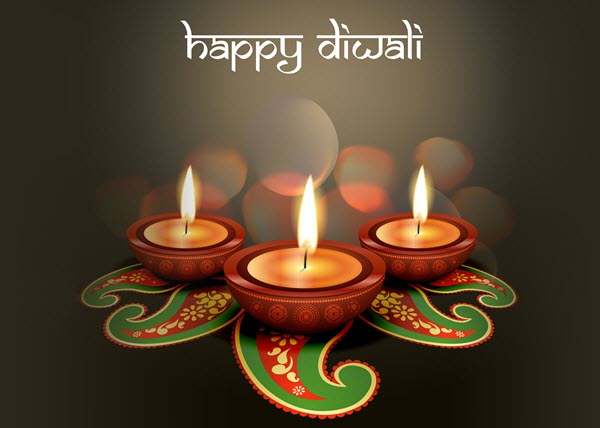 The festival of Diwali marks the return of Bhagwan Rama to his kingdom Ayodhya after completing 14 years in exile. Goddess Lakshmi, who symbolizes wealth and prosperity, is also worshiped on Diwali. The festival is celebrated as "Kaali Pooja" in West Bengal. In southern India, Diwali commemorates the conquering of the Asura Naraka.
Diwali Date 2022
Diwali festivity lasts for five days. It begins on Dhanteras and ends on Bhaiya Dooj. However, in Maharashtra, the festival begins one day earlier on Govatsa Dwadashi, whereas in Gujarat, the Diwali festivities begin two days earlier on Agyaras and culminate on Labh Panchami.
Diwali Date: 24th October 2022 Monday
Diwali Puja Dates for 2022
Deepavali Day 1 Govatsa Dwadashi, Vasu Baras: 21st October 2022 Friday
Deepavali Day 2 Dwadashi: 22nd October 2022 Saturday
Deepavali Day 3 Dhanteras, Dhantrayodashi, Dhanvantari Trayodashi, Yama Deepam, Kali Chaudas, Hanuman Puja: 23rd October 2022 Sunday
Deepavali Day 4 Narak Chaturdashi, Lakshmi Puja, Diwali: 24th October 2022 Monday
Deepavali Day 5 Diwali Snan, Diwali Devpuja: 25th October 2022 Tuesday
Deepavali Day 6 Govardhan Puja, Bhaiya Dooj: 26th October 2022 Wednesday
!! Happy Diwali !!