The Hindu Religion is known for its different Puja rituals. One such famous and important Puja ritual is Govardhan Puja.
Govardhan Puja is celebrated immediately after the main Diwali Puja and commemorates Lord Krishna's triumph over Lord Indra.
It is celebrated on the first lunar day of Shukla Paksha in the Hindu month of Kartik. It is the fourth day of Diwali and marks the beginning of the Vikram Samvat Calendar.
Govardhan Puja is also known as Bali Pratipada or Annakuta Pooja. It is believed that on Annakut Puja day, Lord Krishna had defeated the rain God, Indra.
Govardhan Puja is mainly celebrated by preparing cereals such as rice, wheat, curry of gram flour, and leafy vegetables. This is offered to Lord Krishna. It is believed that Lord Krishna blesses his devotees on the day of Govardhan Puja.
Govardhan Puja is celebrated as Bali Padva in Maharashtra to mark the victory of Vamana (incarnation of god Vishnu) over the demon king Bali. In Gujarat, Govardhan Pooja is celebrated as New Year Day.
Besides Gujarat and Maharashtra, Annakut Puja is celebrated in Uttar Pradesh, Bihar, Haryana, Punjab, Rajasthan, and Madhya Pradesh.
The Govardhan Puja is particularly prominent among the Vallabh Sampradaya (Pushtimarg), the Swaminarayan Sampradaya, and the Gaudiya Sampradaya of Chaitanya.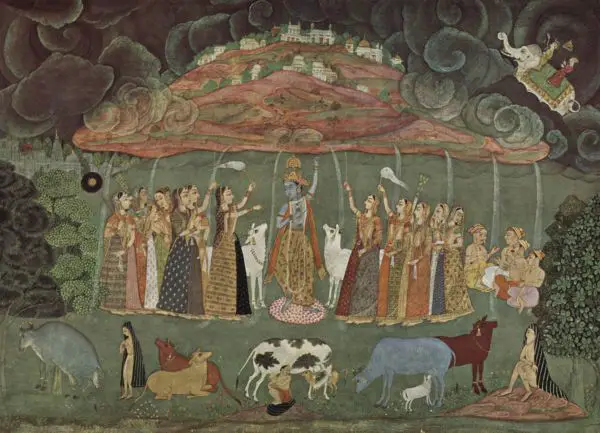 Govardhan Pooja Story
The story of Govardhan Puja relates to the Govardhan Parbat.
Govardhan Parbat was a small hillock located in Braj (Vrindavan), a place near Mathura. According to Vishnu Puran, the people of Gokul used to worship Lord Indra as they believed that it was Indra who provided them with rains that were necessary for their lives and livelihood.
However, Lord Krishna changed this belief of the people and told them that Govardhan Parbat was responsible for all the rains. So, they should worship Govardhan Parbat instead of Lord Indra.
Hearing this advice from Lord Krishna, people started worshipping the Govardhan Parbat.
Seeing this, Indra became very angry with the people of Braj. There was intense rainfall that enveloped all parts of Gokul, including Braj.
However, Lord Krishna came to rescue people and saved their lives by lifting the Govardhan Parbat on his little finger. People stood under the Govardhan Parbat and took shelter from the rains.
Finally, Indra realized his mistake and prayed to Lord Krishna to forgive him. Lord Krishna then pardoned Indra and told people to observe the puja ceremony in honor of Govardhan Parbat.
From that day, people started to celebrate Govardhan Puja.
The day is celebrated in Maharashtra as Bali Pratipada or Bali Padva. It commemorates the victory of Vamana (the incarnation of Lord Vishnu), who defeated and pushed the demon king Bali to Patal Lok.
It is also the day when King Vikramaditya was coroneted and is known as Vikram Samvat. The day is celebrated as the beginning of Gujarati New Year.
Govardhan Puja Celebrations
Govardhan Puja is celebrated in various parts of India. However, it is a major festival of the people of Gokul and Mathura. They celebrate this festival with great enthusiasm and pleasure.
People do Govardhan Parikrama and offer prayers to Govardhan Parbat. They make a form of Govardhan Parbat with cow dung and adorn it with flowers and worship. People also worship cows on this day.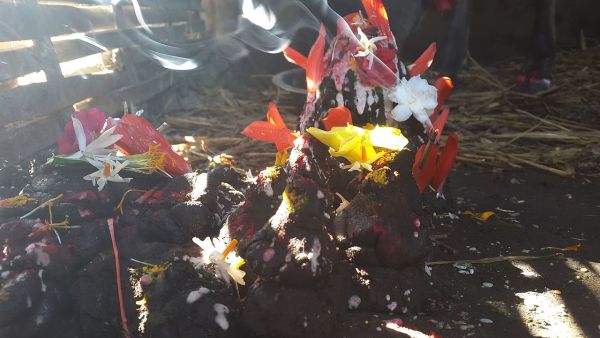 They prepare meals made out of leafy vegetables and offer them to Lord Krishna. There is also the custom of making 56 or 108 dishes offered as "Bhog" to Lord Krishna. It is known as "Annakuta."
They bathe the idols of Lord Krishna with milk and adorn them with new clothes and jewelry. They offer prayers, Bhog, Aarti to Lord Krishna. People visit the temples of Lord Krishna in large numbers. A lot of cultural events are organized, and Prasad is distributed among people.
People wear ethnic Indian attire conforming to Hindu tradition. Women wear saree or salwar kameez, while men wear white or cream-colored shirts or kurtas and pajamas.
Govardhan Puja Date 2022
Govardhan Puja will be celebrated on 26th October 2022, Wednesday
Govardhan Puja Pratahkala Muhurat: 06:14 AM to 08:29 AM
Pratipada Tithi Begins: 04:18 PM on 25th Oct 2022
Pratipada Tithi Ends: 02:42 PM on 26th Oct 2022
Govardhan Puja reminds us that we should conserve the gifts of nature to the best of our abilities that are so vital for our lives on the planet earth. It also signifies that God will protect all those who take sole refuge in him.