"Navnath" means nine great saints who spread Navnath Sampradaya that was initiated by Lord Dattatreya. Here, we share the Name and History of Navnath saints.
Navnath (Nine Great Saints) have been recognized as nine superhuman beings. They were the epitome of honesty, selflessness, austerity, and devotion. In addition, they possessed excellent Mantra power.
According to the religious book, "Navnath Bhaktisar," Navnath Saints defeated the deities like Lord Shiva, Lord Vishnu, Indra, Hanuman, Ashtabhairava, and others.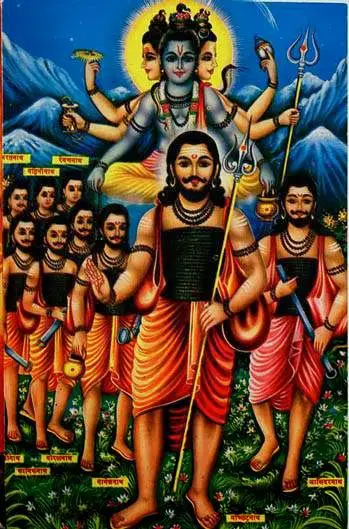 The Navnath Saints possessed a weapon called "Vatakarshan Astra," which was invincible even for the Gods.
The Names of Navnath Saints are as follows:
Macchchendranath
Gorakhnath
Jalandernath
Kanifnath
Gahininath (Gaibi Peer)
Nagesh Nath
Charpatnath
Bhartarinath
Revananath
Apart from the above names of Navnath Saints, Minnath and Dharmanath were children of Macchchendranath. They were equally important as the nine saints of Navnath Sampradaya.
It is believed that the Navnath Saints were the reincarnation of Lord Narayan in Kaliyuga.
Lord Krishna initiated them to reincarnate in Kaliyuga. As per his direction:
"Kavi Narayan" reincarnated into Macchchendranath
"Hari Narayan" into Gorakhnath
"Antariksha Narayan" into Jalandernath
"Prabuddha Narayan" into Kanifnath
"Pippalayan Narayan" into Charpatnath
"Avirhotra Narayan" into Nageshnath
"Drumila Narayan" into Bhartarinath
"Chamas Narayan" into Revannath
"Karbhajan Narayan" into Gahininath
The Navnath Saints are known for their creation of Shabar Mantras for the welfare of society.
The Navnath Saints are believed to be immortal.
When the Navnath Saints left their bodies, their 84 disciples started preaching Nath Sampradaya.
As to date, the Nath Sampradaya has become very popular all around the world. They are mainly very popular and worshipped in the Maharashtra state of India.
In fact, Navnath Saints such as Macchchendranath and Gorakhnath are also worshipped in Buddhism. They are supposed to be Mahasiddhas.
They frequently coined the phrase, "Alakh Niranjan."
Some of the names of the 84 disciples of Navnath Saints who popularized Nath Sampradaya all over the world are as follows:
Raghavsidhda, Balsidhda, Gokatsidhda, Jabusidhda, Naimityik, Sarendrak, Huksha, Dwarbhairav, Ransidhda, Jogi, Sharangi, Nijananda, Nainniranjan, Yadu, Gaiwandkshudra, Kastsidhda, Uresh, Suresh, Dhuresh, Kuhar, Pakshendra, Saksh, Nirnayanava, Hardantan, Bohman, Hukshe, Krishnapalayan, Hema, Kshetranta, Devsidhda, Ratnagar, Vinaybhaskar, Dattadhan, Pavanbhargava, Suksharnava, Yathartha, Kavitsharva, Vadham, Prokshit, Sharuk, Waluk, Sharabh, Sanhati, Lobh, Bhratrak, Chirankalvrunda, Narayan, Kalika, Sabraji, Sulaksha, Luksha, Moksharnava, Samartha, Dwar, Bhardraksha.
Navnath Sampradaya History
The Navnath Sampradaya is a Hindu Sampradaya that is based on the lineage of Navnath Saints. The spiritual achievements of Navnath Saints have been mentioned in the Bhagavata Purana.
According to Hindu scholars, the Navnath Sampradaya of Navnath Saints is an offshoot of the Hatha Yoga.
The Navnath Saints are believed to be the incarnation of Lord Narayan. The teachings of Navnath Sampradaya have assumed different forms in different parts of India.
For example, the Gurus of Navnath Sampradaya stresses Bhakti, devotion, Jnana, Knowledge, and Yoga.
The Navnath Gurus propounded that the entire creation is born out of Nada (sound). Liberation, according to them, is the merging with the Ultimate Reality, which they called "Shiva." They stressed the dissolution of the human ego. Their approach is non-metaphysical, simple, and direct.
The Navnath Saints do not condemn the worship of idols. Moreover, the chanting of the sacred hymns and devotional songs has been a traditional feature of the sect. They preached that the Supreme Reality could be realized only within the heart.
The Guru of Navnath Saints is Rishi Dattatreya, an incarnation of the Hindu Trinity (Brahma, Vishnu, and Shiva).
The book called Navnath Pothi is dedicated to these nine great souls. It has 40 chapters. The holy book contains a detailed account of the births, lives, and deeds of Navnath saints.
The book has been written in Marathi as the Navnath Saints are mainly worshipped in Maharashtra. It is believed that if you read this book in a specific manner, it benefits your body, mind, and soul.
According to the Mahabharata, Lord Krishna called the meeting of angels and saints and said he would send his own light in the form of nine saints who would spread the message of Love. Lord Krishna said that these nine saints would help only those who have good souls and are true believers.
The saints of Navnath Sampradaya preached that God exists everywhere. Guru Dattatreya is believed to be the first teacher and initiator of Navnath Sampradaya. They gave a benediction to Macchchendranath in the presence of Lord Shiva.
Some important places of Navnath
Matsyendranath or Macchchendranath: Sawargaon, Taluka: Aashti, District: Beed (Maharashtra)
Gorakhnath or Gorakshnath: Girnar, Junagarh (Gujarat)
Jalandernath or Jan Peer: Yeolewadi, Taluka: Patoda, District: Beed (Maharashtra)
Kanifnath: Madhi, Taluka: Pathardi, District: Ahmednagar (Maharashtra)
Gahininath: Chinchore, Taluka: Nevasa, District: Ahmednagar (Maharashtra)
Nagesh Nath: Wadwal, Taluka: Mohol, District: Solapur (Maharashtra)
Charpatnath: Still believed to be visiting pilgrimages.
Bhartarinath. Harangul, Taluka: Gangakhed, District: Parbhani (Maharashtra)
Revananath: Vite, District: Sangali (Maharashtra)
Navnath Sidhdamantra
Om Namo Sidhdanavam Angushthaay Namah Mukhay Namo Namah||
Sirbrahma Dhundhuhakar Shirase Brahma Tanam Tanam Tanam Namo Namah||
Om Rhaam Draam Chaitanya Dattatreya Gorakshaay Sidhday Namah||
(Source – Sankatnashak Shaabri Kavach, Navnath Bhaktisara)
Navnath Stuti
"Adi-Nath Kailash-Nivasi, Uday-Nath Katai Jam-Faansi.
Satya-Nath Saarani Sant Bhaakhai, Santosh-Nath Sada Santan Ki Raakhai.
Kanthadi-Nath Sada Sukh-Dai, Anchati Achambhe-Nath Sahai.
Gyan Paarakhi Siddha Chaurangi, Matsyendra-Nath Dada Bahurangi.
Gorakh-Nath Sakal Ghat Vyapi, Kaatai Kali-Mal, Taarai Bhav-Peera.
Nav-Nathon Ke Naam Sumiriye, Tanik Bhasm Le Mastak Dhariye.
Rog Shok Darid Nashaave, Nirmal Deh Param Sukh Paavai.
Bhoot-Pret Bhay Bhanjana, Navnathon Ka Naam.
Sevak Sumire Chandra Nath, Purna Hoye Sab Kaam."
Note: You should read the above praise verse 21 times and put some holy ash on your forehead. It will bestow the grace of the Navnath Saints upon you.
This Navnath Stuti dispels fear and removes obstacles from your life. As a result, your heart will be filled with happiness, and your wishes will start fulfilling with more ease now.
You should continue chanting the above Navnath Stuti for 21 days (21 chants every day) for gaining Siddhi over this mantra. You should maintain celibacy during the Sadhana period.
Navnath Bhaktisar
This holy book was written by Guru Gorakhnath and contained 40 chapters and 7600 stanzas. The book was translated into Marathi by Malu Narhari Kavi in 1741.
It is believed that if you read this book in a particular manner, it helps to wipe out all your sorrows, black magic, and ghostly things from your house.
Only males can read this book. Females can hear the stories read by others.
Well, that's all in this post on Navnath Saints Name and History. We hope that you would have found it beneficial.