Lord Krishna is the most popular deity of the Hindu religion.
He is widely worshiped among Hindus.
In fact, Lord Krishna is regarded as the eighth incarnation of Lord Vishnu in the Dashavatars.
Today, we share with you 25 Beautiful Lord Krishna Images.
So, if you are on the lookout for images of Lord Krishna, then you are perfectly at the right place.
It's a showcase of Lord Krishna's images.
Lord Krishna is known by several names such as Govinda, Gopala, Murli Manohar, Vasudeva, Mukunda, Shyam, Makhan Chor, Mohan, Madhusudan, Devakinandan, Nand Lal, and many more.
His birthday known as "Krishna Janmashtami" or "Krishna Jayanti" is a very important Hindu festival.
It is celebrated each year on the Ashtami tithi (eighth day) during the Krishna Paksha (dark fortnight) in the Hindu month of Shravan. It mainly falls in August or September.
There are different facets of Lord Krishna's personality.
He is often depicted as an infant eating butter.
He is also portrayed as a young boy playing the flute.
Lord Krishna is depicted as a young man along with Radha or as a young man surrounded by women.
He is also portrayed as an elderly gentleman giving guidance to Arjun in the epic Mahabharata which is described in Bhagwad Gita.
In fact, there are numerous tales of Lord Krishna in Hindu religious scriptures such as Mahabharata, Srimad Bhagavata, Sukh Sagar, Vishnu Purana, and Bhagavata Purana.
The narratives of Krishna's life are described as Krishna Leela.
It is believed that Lord Krishna lived between 3200 and 3100 BC.
Lord Krishna is the true personification of love, tenderness, compassion, and righteousness.
He is the Universal Supreme Being.
The name "Krishna" is primarily an adjective which means "dark," "dark blue," or "black."
So, you often see idols and pictures of Lord Krishna painted in black or blue-skinned. Sometimes it is also interpreted as "all-attractive."
In fact, the name "Krishna" is listed as the 57th name in the Vishnu Sahasranama as the name of Lord Vishnu.
Mostly, Lord Krishna is portrayed wearing a peacock-feather crown or wreath and playing the flute known as "bansuri." You can see such Lord Krishna images features below.
He is portrayed in Tribhanga posture in which he stands with one leg bent in front of the other.
He is also portrayed along with cows or calf, as the divine herdsman and is called Govinda.
Lord Krishna romantic image is also very popular among devotees in which Lord Krishna is shown with Gopis.
At other times, Lord Krishna is depicted being part of the battlefield in Kurukshetra during the war between Pandavas and Kauravas (as described in the epic Mahabharata).
He is shown as a Charioteer giving counsel to Pandavas Prince Arjun.
He is shown driving the chariot while Arjun aims his arrows at the enemies at the battlefield of Kurukshetra.
He is also shown in his magnified form where Lord Krishna shows his divine form (Viraat Swarup) to Arjun.
So we see that Lord Krishna has been portrayed in various ways.
He has been shown as Bala Krishna, where he can be seen crawling on his hands and knees, and even as a dancing child. You can find Bala KrishnaWallpapers below.
He has been portrayed as Laddo Gopal, holding laddu in his hand.
He has been depicted as Makhan Chor, wherein he is shown as an innocent child playfully stealing butter.
There are also regional depictions of Lord Krishna where he is portrayed as "Jagannath" in Odisha, "Vithoba" in Maharashtra, "Srinathji" in Rajasthan, and "Guruvayoorappan" in Kerala.
Now, you get to see all the different facets of Lord Krishna's personality in this post wherein we have brought a showcase of 25 Beautiful Lord Krishna Images / Wallpapers.
So, drench yourself in the divine beauty of Lord Krishna as we present you this compilation of images of Lord Krishna.
Let's witness it.
25 Beautiful Lord Krishna Wallpapers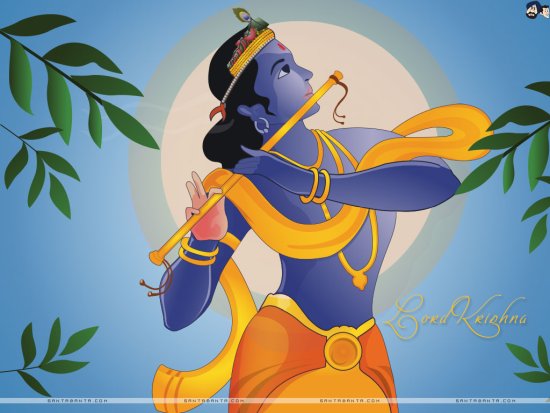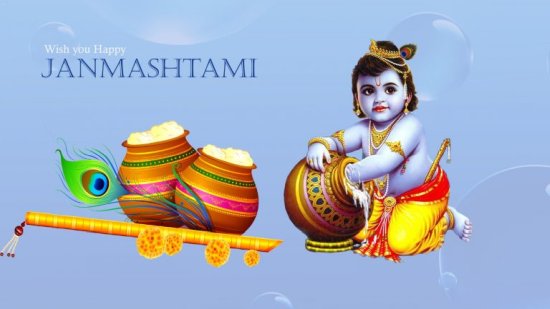 We hope that you would have liked this presentation of 25 Beautiful Images of Lord Krishna. Do share the post with your friends and loved ones. We welcome your comments and suggestions.