Today, we talk about one such important Hindu festival, Onam and Onam Date.
The list of Hindu festivals is simply endless. There's hardly a month without allowing us to drench ourselves in sheer joy and celebrations that are the hallmark of Hindu Festivals.
Hindu Festivals are an occasion to celebrate the biggest gift of God – Life.
Onam is by far the biggest and the most important festival of Kerala in India. It is an annual festival that has its origins in the state of Kerala in India.
Onam is a harvest festival and is celebrated with great enthusiasm and joy all over Kerala.
It is believed that the spirit of legendary King Mahabali visits Kerala during Onam. However, other Hindu mythologies are associated with the festival of Onam.
The Onam festival is celebrated in Chingam month, the first month of the Malayalam Calendar. It corresponds with August-September in the Gregorian calendar; the festival is marked as New Year's Day for Malayali Hindus.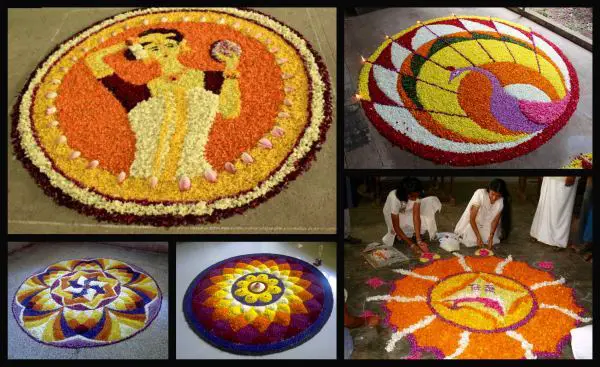 Onam festivities last from four to ten days. On the first day of Onam celebrations, known as Atham, and the tenth day, Thiruvonam is regarded as the most important.
Its rich cultural presentation and widespread popularity have made Onam the official State Festival of Kerala (in 1961). Although being a Hindu festival, Onam is also celebrated by non-Hindu communities of Kerala, as well.
Elegant dances, folk songs, elaborate feasts, energetic games, boats, flowers, and elephants are an integral part of this dynamic festival called Onam.
Some of the major attractions of the Onam festival include Pookkalam (flower arrangement), Vallam Kali (boat races), Onathappan (worship), Kummati Kali (mask dance), Onavillu (music), Thumbi Thullal (women's dance), Atthachamayam (folk songs and dance), Onapottan (costumes), and other celebrations, as well.
Significance of Onam
Here, we describe two of the most common Hindu legends associated with the festival of Onam.
The Mahabali Legend
A long, long time ago, the legend goes that a mighty demon king called Mahabali ruled over Kerala. Mahabali was so powerful that he even extended his rule to the heavens and also to the netherworld.
He was a great ruler and beloved of his subjects. There was prosperity, peace, and happiness in his kingdom. Everybody was regarded as equal, and justice prevailed in his kingdom. No one dared to lie or cheat. Thus, it is believed that Kerala witnessed its golden era ruling the reign of Mahabali.
Soon Mahabali's popularity spread far and wide.
However, the Devas felt envious of the growing popularity of Mahabali. They felt challenged and feared his growing powers. Fearing Mahabali might become over-powerful, the Devas approached Lord Vishnu and requested him to curtail Mahabali's powers.
Lord Vishnu agreed to the Devas' request, transformed himself into a dwarf, Vamana, and approached Mahabali. King Mahabali was performing a great Yagna. Vamana asked for a gift that he could measure in three paces. Mahabali agreed to it.
God Vishnu, disguised as Vamana, then increased his stature.
In the first two steps, Vamana covered the earth and sky. Then, when he was about to take the third step, Mahabali offered his head that pushed him to the netherworld.
However, Lord Vishnu granted him a boon that he could return to his kingdom from exile once a year. So, Onam is celebrated to mark the homecoming of King Mahabali. It is a day when Kerala's people pay their tribute to the great King Mahabali, who gave his all for his subjects' well-being.
Parashurama Legend
Another popular legend associated with the Onam festival relates to the Hindu-mythology figure, Parashurama. It is considered that Parashurama was an incarnation of Lord Vishnu.
Parashurama believed to have founded the Western Ghats, which span from the southern tip of Kerala up to Maharashtra. He slew kings and warrior castes that were constantly at war and oppressed their subjects with cruelty and injustice.
Lord Vishnu took the avatar of Parashurama in the era of King Kaartavirya. This king was very cruel and oppressed, persecuting people and sages alike.
It so happened that when Parashurama was away, the king visited his hermitage and took away the calf of their cow. Parashurama was very grieved at the injustice of the king. So he called him to war and killed the king together with his oppressive warriors. In the end, Parashurama threw the ax, and where it fell, the sea retreated, creating the land of Kerala.
According to this legend, Onam is celebrated to mark the creation of Kerala.
Onam Celebrations
Onam is a ten-day festival celebrated with great devotion, joy, and enthusiasm. It is an occasion that brings out the rich cultural heritage of Kerala in its best form. The ten days of the Onam festival are Atham, Chithira, Chodhi, Vishakam, Anizham, Thriketa, Moolam, Pooradam, Uthradom, and Thiruvonam.
The Onam festivities start on Atham day at Vamanamoorthy Thrikkakara temple (Kochi). This Vishnu temple is the focal point of Onam celebrations. The festival flag is raised colorful Parades are held depicting various elements of Kerala culture with floats and tableaux.
Other days of the Onam festival see diverse activities and celebrations ranging from dance events, boat races, martial arts, floral designs, prayers, shopping, grand feasts, family get together and donating food and clothes for charity. Men and women adorn the traditional dress. The Kasavu or Kerala sari is particularly popular. The tradition is called Onakkodi.
Keralite Hindus install an image of Lord Vishnu in Vamana Thrikkakara Appan or Onatthappan in their homes. Temples are decorated with flowers, and lamps are lit. A Palmyra tree is erected in front of temples. It is surrounded by a wooden balustrade and covered with dry Palmyra leaves.
The swing is another important part of Onam celebrations. Young men and women dressed in their best sing Onam songs, Onappaatt and rock one another on swings slung from high branches.
People play various games and indulge in dancing and singing. It is collectively called Onakalikal. Men play rigorous sports like Talappanthukali (played with a ball), Kutukutu, Ambeyyal (Archery), and combats such as Kayyankali and Attakalam.
Women involve themselves in cultural activities. They perform graceful dance forms such as Kaikotti Kali and Thumbi Thullal. They design flower mats called Pookalam in front of their house courtyard to welcome King Mahabali. Folk performances like Pulikali and Kummatti Kali go on to add to the zest of Onam celebrations.
Various competitions are held, including Ox races, food-eating competitions, etc.
One of the most important highlights of Onam festivals is the grand feast called Onam Sadya. It is a nine-course meal and consists of eleven to thirteen essential dishes. Onam Sadya is served on banana leaves, and people sit on a mat laid on the floor to have the meal.
Another interesting feature of Onam celebrations is the Snake Boat Race called Vallamkali. It is held on the river Pampa. Watching the decorated boats rowed by hundreds of boatmen is a sheer enjoyment. There's an atmosphere of festivity along with the boat race as spectators chant, clap, sing, and cheer.
Onam Date 2023
Onam is the most important Hindu festival for the people of Kerala. It is celebrated during Chingam month when Nakshatra Thiruvonam prevails (in Chingam month). It usually falls in August or September, according to the Gregorian calendar.
The festival celebrates Lord Vishnu's appearance as Vamana avatar and the subsequent homecoming of the legendary King Mahabali. It is a ten-day-long festival starting on Atham day till Thiruvonam day.
Onam Thiruvonam will be celebrated on the 29th of August 2023, Tuesday.
The festival commences ten days before.
We Wish a Happy Onam to All, Our Beloved Readers.
!! Happy Onam to You !!