Teej festivity is an important Hindu celebration mainly observed by women in the North Indian States such as Uttar Pradesh, Bihar, Madhya Pradesh, and Rajasthan. Kajari Teej is one of the Teej festivals.
There are three Teej festivities that women celebrate in the months of Sawan and Bhadrapada.
These are as follows:
This post shares with you Kajari Teej Vrat Katha and Date.
The Teej festivity that comes after fifteen days of Hariyali Teej is called Kajari Teej. It is observed three days after Raksha Bandhan and five days before Krishna Janmashtami. It usually falls in August or September.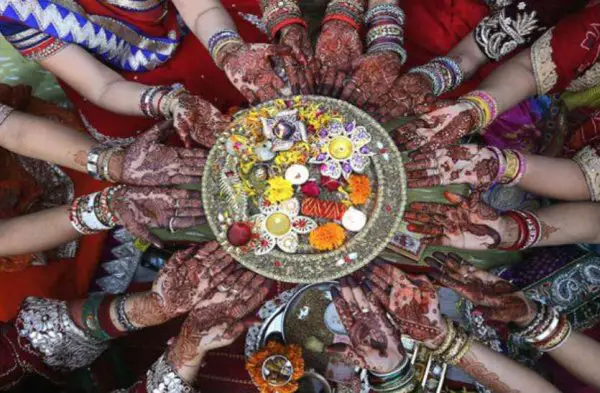 If we go by North Indian Calendar, Kajari Teej falls during Krishna Paksha of Bhadrapada month. In contrast, it falls during Krishna Paksha of Shravana month, according to the South Indian Calendar.
However, it should be noted that Kajari Teej is celebrated on the same day as per the North Indian Calendar and South Indian Calendar.
Kajari Teej is often referred to as Badi Teej as opposed to Hariyali Teej, which is known as Chhoti Teej. Moreover, Kajari Teej is often spelled as Kajri Teej or Kajali Teej. Kajari Teej is also known as Satudi Teej in some parts of India.
Women observe Kajari Teej Vrat for their husband's well-being and long life. The women keep a day-long "Nirjala" Vrat (without water) during Kajari Teej.
The occasion is marked as women wearing new clothes, bangles, jewelry, and putting jagra and Mehendi over their bodies. It is known as Solah Shringar.
Now, we will tell you about the Poojan Vidhi and Vrat Katha of Kajari Teej.
According to Hindu beliefs, it is said that Devi Parvati got Lord Shiva as her husband after a long and arduous Tapasya on the day of Kajri Teej.
So, married women keep the Kajari Vrat for the long life of their husbands. However, unmarried girls also keep the Kajri Teej Vrat for getting a devoted and loving husband.
Women arrange all the Pooja items – Poojan Samagri one day before the Kajari Teej festivity.
This Poojan Samagri includes:
Mehendi
Agarbatti (Incense Sticks)
Haldi
Kumkum
Mauli
Sattu
Fruits
Sweets
New clothes for Dana
Kajri Teej Vrat is observed Nirjala – without having a single drop of water. However, pregnant ladies can have fruits known as Fhala-ahar.
Poojan Vidhi of Kajri Teej
You need to select the right Pooja direction in your house (Preferably facing the east direction) and prepare a small pond-like structure (ghera) using mitti and cow dung.
Fill the pond (Talab) with unboiled milk and water.
Place a lighted Ghee Deepak near it.
Now, keep banana, apple, Sattu, Roli, Mauli, Akshat, etc., in a vessel such as Thali. You should also install a Neem branch near the pond and worship it as Neemdi Mata by placing a red-colored Chunari over it.
In the evening, give Arghya (offering) to Chandrama Devta (Lord Chandra) and have water from the hands of your husband to break the fast.
So, women keep Kajari Vrat to safeguard the lives of their husbands.
Usually, swings are installed and hung from the trees. Women spend the day swinging, singing songs, dancing, and involving themselves in other kinds of cultural activities.
Shiva Pooja is performed on the day of Kajri Teej. Women also worship Shiva Lingam. Various delicacies are prepared and relished on the holy day of Kajari Teej.
Popular Legend behind Kajri Teej
According to popular Hindu legend, Devi Parvati longed for marital and divine union with Lord Shiva. So she kept a strict fast for 108 years to get Lord Shiva as her husband. Finally, Lord Shiva was pleased by her dedication and accepted divine union with her.
It is said that this divine union of Lord Shiva and Goddess Parvati occurred during Krishna Paksha of Bhadrapada month. This day was later celebrated as Kajari Teej. Therefore, Hindus believe that it is very auspicious to worship Goddess Parvati on this day.
Kajari Teej Vrat Katha
Once there was a Sahukaar. He had seven sons.
His smallest son was paralyzed (Apahija).
He had the bad habit of going to Vaishalaya.
However, he had a devoted (pativrata) wife.
She always obeyed her husband.
Whatever her husband said, she did it obediently. Even she carried her husband to Vaishalaya on her shoulders.
It so happened that it was Kajari Vrat, and she took her husband to Vaishalaya. She left her husband in the Vaishalaya and waited for him by sitting near a river.
It started to rain heavily; she heard a voice that came from the river. The voice told her to drink the milk that was kept in the vessel (Dona) –
"Aavtari Jaavtari Dona Khol Ke Pii, Pia Pyari Hoye"
She saw a vessel (Dona) filled with milk when she looked at the river. So she took the Dona and drank the whole milk.
God's grace dawned on her.
Her husband left Vaishalaya forever and started to love her. He became righteous and religious. She thanked the Lord and started to observe the Kajari Vrat strictly from then onwards.
This is the most popular Kajari Vrat Katha.
Popular Religious Customs on Kajari Teej
Married women keep a day-long fast (Nirjala Vrat) on Kajari Teej whereas unmarried young girls keep Kajari Vrat for getting a befitting and loving husband
Various delicacies are prepared using Jau, Wheat, Chana, Sattu, Mewa, Rice, and Ghee
The fast is broken after giving Arghya to Chandra Deva in the evening
Cow worship is also done on this day of Kajri Teej. Seven Wheat Rotis are prepared, and Ghee and Gud are kept on it and served to Cows.
Swings are installed in homes and women dance and sing songs on Kajari Teej
It is customary to sing Kajari Geet on Dholak ki Thaap
Kajari Teej Vrat Date 2022
Kajari Teej 2022 will be observed on:
Tritiya Tithi Begins: 00:53 on 14th Aug 2022
Tritiya Tithi Ends: 22:35 on 14th Aug 2022
Well, that's all we have for you in this post on Kajari Teej Vrat Katha and Date. We hope that you would have found the post useful.
Thanks for visiting.
We welcome your comments and suggestions.