Today, we have come up with beautiful Lord Hanuman Images. These Hanuman Ji photos show various aspects of his multi-dimensional persona signifying his strength, courage, and devotion to Lord Rama and Mata Sita.
So, if you are searching for Hanuman images free download, it is the presentation that you should surely check out. It showcases beautiful Lord Hanuman wallpapers and Hanuman photos in HD.
Lord Hanuman is a very popular deity of the Hindu religion. He is worshiped throughout the length and breadth of India and various other parts of the world.
Lord Hanuman is considered as an ardent devotee of Sri Rama and is one of the central characters in the Hindu epic Ramayana. Hanuman helped Lord Rama to rescue Sita Mata from the bondage of the demon King of Lanka, Ravana.
Lord Hanuman is known by various names such as Anjaneya, Kesari Nandan, Bajrang Bali, Maruti, Sankata Mochana, Pawan Putra, and Balaji. He is the God of strength, power, and wisdom.
Tuesday is regarded as the sacred day for the worship of Lord Hanuman. His birth anniversary known as Hanuman Jayanti is celebrated with tremendous enthusiasm all over India.
In fact, the name Hanuman is derived from two Sanskrit words "Hanu" and "Man." The word "Hanu" is interpreted as the jaw, while "Man" means disfigured.
A legend connected with Hanuman's childhood says that once Hanuman (in his childhood) taught that Sun was a fruit and tried to swallow it.
However, Lord Indra got immensely angry with Hanuman and attacked Hanuman with his "Vajra" which disfigured his jaw forever.
There is another interesting story relating to the birth of Lord Hanuman. In fact, Hanuman was the son of Anjani and King Kesari.
Vayu Deva is considered to have played a major role in his birth. It is even said that Lord Hanuman was an incarnation of Lord Shiva. He was the eleventh incarnation of Lord Shiva.
The story goes that the Gods were extremely worried and grieved from the atrocities done by the demon king Ravana. They approached Lord Vishnu and begged him to address the atrocities of Ravana.
At this, Lord Vishnu consoled them and assured them that he would be born as Rama who will get rid of Ravana.
Lord Shiva said that he would take incarnation as Hanuman and help Rama in his pursuit of Ravana. Hanuman would be born in the "Vanara" clan that would allow him to live a simple lifestyle free from the bonds of culture and traditions.
Thus Hanuman was born to Anjani and was an incarnation of Lord Shiva.
It is said that a Sage once cursed Lord Hanuman that he would forget all his divine powers. In fact, Lord Hanuman was very notorious in his childhood and used to trouble the sages who took shelter in his father's kingdom.
Once he troubled a sage, and the sage went on to curse him that Hanuman would forget all his divine powers.
However, Hanuman requested him to forgive him. So, the sage told that Hanuman would only get to use his powers when someone reminds him of those powers.
There is an episode described in Ramayana when Jambhavantha reminds Hanuman of his magical powers that the later used to find Mata Sita in Lanka.
There is another very interesting story in which Lord Hanuman is depicted to have covered his entire body with Sindoor.
It so happened that Lord Hanuman once saw Sita Mata applying Sindoor on his forehead. Sita Mata told Hanuman that this is for the longevity, well-being, and good health of Sri Rama.
So, Hanuman went on to smear his entire body with Sindoor assuming that doing this would further extend the well being and life of his beloved Lord Rama.
Lord Hanuman performed various acts of bravery and courage. He helped Sri Rama in his fight against Ravana. During the battle against Ravana, Laxman got seriously injured. Lord Hanuman then moved an entire mountain from the Himalayas to heal Laxman.
Reciting Hanuman Chalisa can be very beneficial for Hanuman devotees.
Now, it's your turn to get the blessings of Lord Hanuman.
Here, we have shown several Lord Hanuman Wallpapers, Hanuman photos in HD. These Lord Hanuman Photos are available for free download.
You can give your desktop, laptop screen, mobile, and tablet a spiritual look and feel with these Hanuman Ji photos.
So, let's witness this wonderful collection of Lord Hanuman Images. Here's the collection of Hanuman Ji photos for you:
30 Lord Hanuman Images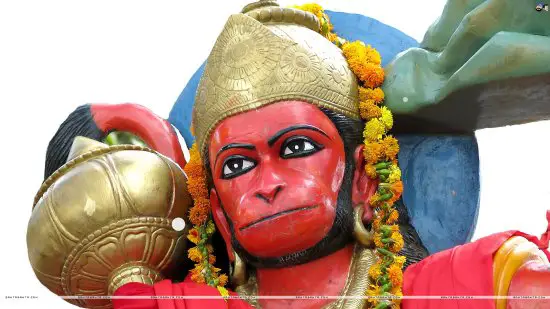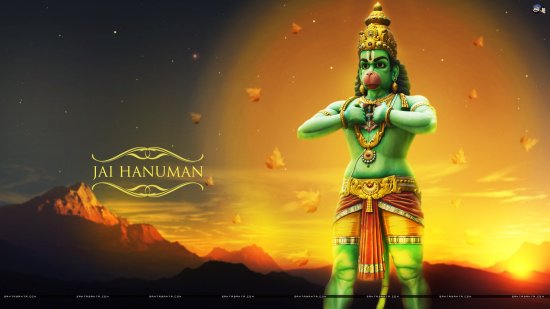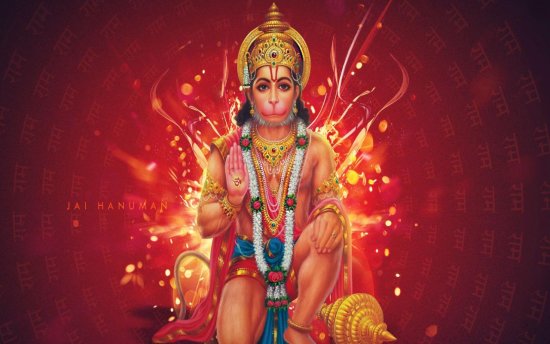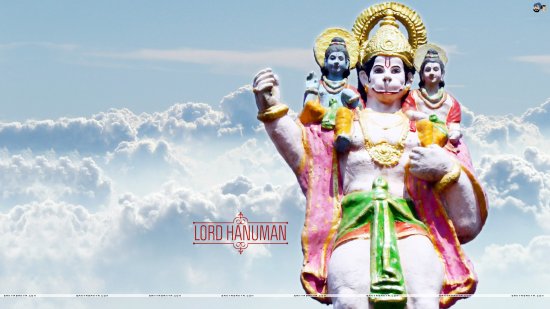 We hope that you would have liked these Lord Hanuman Images. Please share this post with your friends and loved ones. We welcome your comments and suggestions.