Mohini Ekadashi is regarded as one of the most important Vrat (fast) observed by the Hindus to eliminate sins, including the sins committed in previous births. Moreover, it is observed to seek the divine blessings of Lord Vishnu for a happy and prosperous life. The post shares with you Mohini Ekadashi Vrat Katha and Date.
The Mohini Ekadashi Vrat falls on the Ekadashi Tithi (11th day) during the Shukla Paksha period in the Hindu month of Vaishakh. It usually falls in April or May, according to the Gregorian calendar.
However, according to the Tamil Calendar, the Mohini Ekadashi Vrat falls during the month of 'Chithirai' and 'Jyestho' according to the Bengali calendar. According to the Malayalam Calendar, the Mohini Ekadasi Vrat falls in the month of 'Edava.'
According to Hindu religious beliefs, Lord Vishnu appeared as "Mohini" on the Ekadashi Tithi. Hence, the day began to be celebrated as "Mohini Ekadashi" from then onwards.
Significance of Mohini Ekadashi
Many Hindu religious scriptures, such as the "Surya Purana," are full of praises for the Mohini Ekadashi Vrat. It is said that observing the Mohini Ekadasi Vrat helps relieve the sins committed by an individual, including those committed in previous lives.
Moreover, observing the Mohini Ekadashi Vrat provides you with good karmas or "Punya" that you cannot achieve by performing Yagna, going on pilgrimages, or doing charity. The Hindu scriptures say that the Mohini Ekadasi Vrat offers many glories, which can only be achieved by donating a thousand cows to charity.
One who observes the Mohini Ekadashi Vrat with full devotion achieves freedom from the continuous cycle of birth and death and finally attains salvation.
So, Mohini Ekadashi Vrat holds enormous significance in Hindu mythology.
Mohini Ekadashi Vrat Katha
According to the Hindu scriptures, Lord Vishnu took the form of "Mohini" on Mohini Ekadashi's day. This episode took place during the churning of the mighty oceans (known as the "Samudra Manthan") by the Devtas (demigods) and the Asuras (demons). There was a great fight for the Amrit (Nectar) between the Devtas and the Asuras, drinking which would offer immortality to the individual.
Here, Lord Vishnu intervened and took the form of "Mohini" (beautiful lady). The Asuras kept on admiring the beauty of Mohini while she offered the Amrit to the Devtas.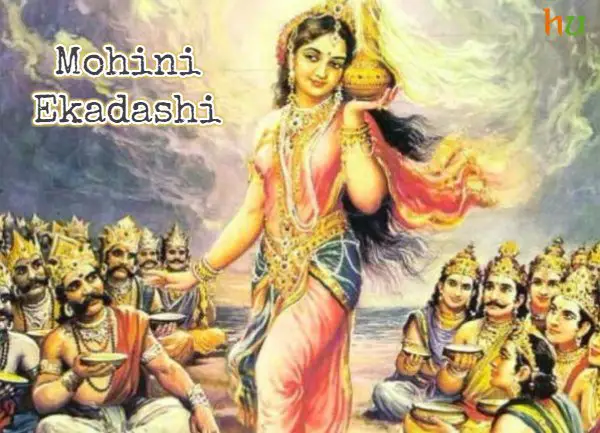 This happened on the Ekadashi Tithi, so it became known as Mohini Ekadashi.
In fact, Mohini Ekadashi Vrat was kept by Lord Shri Ram when he was searching for Sita Mata. Yudhishthira also kept this Vrat during the Mahabharata Period. The Mohini Ekadasi Vrat relieved them from all their sufferings.
Here, we let you know the stories (known as Vrat Katha) connected with Mohini Ekadasi.
Let's get started with the Mohini Ekadashi Vrat Katha:
Dharmaraj Yudhistira asked Lord Krishna about the Mohini Ekadashi Vrat Katha. Lord Krishna told Yudhistira that Maharishi Vashishta first narrated the Mohini Ekadasi Vrat Katha to Lord Ram.
Lord Ram wanted to know how he could overcome all his sorrows as he was deeply grieved when Ravana took Sita away.
Maharishi Vashishta told Shri Ram that Mohini Ekadashi Vrata helps to overcome all sorrows and sins. He narrated the Mohini Ekadasi Vrat Katha to Lord Shri Ram:
Long ago, there was a place known as Bhadravati on the banks of River Saraswati in ancient times. Chandravanshi King Dhrutimaan ruled it.
Dhrutimaan was a very religious person and a devotee of Lord Vishnu. He had five sons: Sumana, Sadbuddhi, Medhavi, Sukruti, and Dhrishtabuddhi.
However, his fifth son Dhrishtabuddhi was a sinner. He used to gamble and consume meat & alcohol. He even indulged with women and committed immoral deeds.
The king was very upset with him. He abandoned Dhrishtabuddhi.
Dhrishtabuddhi had a horrible life once his father abandoned him. For some days, he survived by selling his ornaments and clothes. However, later on, he had to wander around hungrily and thirstily. Subsequently, Dhrishtabuddhi took to robbery and was imprisoned by the King. Finally, he was driven out of the kingdom.
Dhrishtabuddhi lived in the forest and survived by killing birds & animals. Once, he was overcome with thirst and hunger and arrived at the ashram of Sage Kaundinya. It was Vaishakh month, and the Sage was bathing in the river Ganga.
It so happened that some water droplets from Sage's wet clothes splashed on the body of Dhrishtabuddhi, and he gained good sense.
Dhrishtabuddhi confessed his sins before Sage Kaundinya and requested a solution to attain salvation from the sin that he had committed.
Sage Kaundinya advised him to observe the Mohini Ekadashi Vrat during the Shukla Paksha of Vaishakh month. The Ekadashi Vrat will cleanse all his misdeeds.
After that, Dhrishtabuddhi observed the Mohini Ekadashi Vrat with full devotion. As a result, he got freed from all his sins. Ultimately, he sat on Garuda (bird) and reached Vaikunta (Vishnu) Loka.
By observing the Mohini Ekadasi Vrat, one can attain freedom from all kinds of materialism and sins. Moreover, the practitioner gets the divine blessings of Lord Vishnu.
It is also said that whosoever recites or listens to the significance of Mohini Ekadashi Vrat will obtain the same benefits as obtained by donating one thousand cows.
Mohini Ekadasi Vrat Vidhi
You should observe the rituals for the Mohini Ekadashi Vrat from the preceding night, i.e., the 10th lunar night. One should wake up before sunrise. After applying a til (sesame) paste to the body, you should have a bath in pure water. You should wear clean and fresh clothes.
Now, you should install a Kalash (pot) and decorate it with a red cloth. Then, you should worship Lord Vishnu and Lord Ram's idols by lighting a diya (a lamp made with cow's ghee). One should also light some incense sticks and offer fruits and flowers.
You should recite and listen to Mohini Ekadashi Vrat Katha. After that, you should distribute the Prasad and donate (such as Dakshina to the Brahmins). You should sing devotional songs at night and sleep near God's idol.
One should avoid the following things on Mohini Ekadashi Tithi:
You should not eat rice and barley on Ekadashi Tithi
One should not eat food given by others or outsiders
You should not consume Tamasic items such as meat, alcohol, garlic, and onion. These items increase evil thoughts in your mind.
Do not indulge in anger, violence, criticism, and robbery on the day of Ekadashi.
Control your passion and follow complete abstinence on the day of Ekadashi.
Mohini Ekadashi 2023 Date
Mohini Ekadashi will be observed on 1st May 2023, Monday.
Here, we list Ekadashi Tithi Timings and Parana Timings for your convenience.
Parana Time: 05:40 AM to 08:19 AM
Ekadashi Tithi Begins: 08:28 PM on 30th April 2023
Ekadashi Tithi Ends: at 10:09 PM on 1st May 2023
Note: Parana is breaking the fast. After sunrise, Ekadashi Parana is done on the next day of Ekadashi Vrat (on the Dwadashi Tithi). Ekadashi Parana should not be done during Hari Vasara, the first one-fourth Dwadashi tithi duration. The most preferred time for breaking the Ekadashi Vrat is Pratahkal.
Concluding
Mohini Ekadashi is a day for remembering the grace of Lord Vishnu. Mohini Ekadasi Vrat purifies your body, mind, and soul. It helps you to live a righteous life. You get the divine blessings of Lord Vishnu and live a happy and prosperous life.
We hope you know Mohini Ekadashi's importance and Vrata Katha. Lastly, we request you share the post across social networking channels. We welcome your comments and feedback.