Kartik Purnima is one of the most popular festivals of the Hindus. Today, you come to know about Kartik Purnima Significance and Date.
Kartik Purnima is also known as Tripurari Purnima or Tripuri Purnima. Sometimes Kartik Purnima is called Deva Diwali or Deva Deepawali.
Kartik Purnima is the festival of lights of the Gods.
The Tripuri Purnima festival is celebrated on the full moon day (Purnima) in the auspicious Hindu month of Kartik (November – December).
For Hindus, Kartik month holds special significance. It is dedicated to the worship of both Lord Vishnu and Lord Shiva.
Hindus believe that on the day of Kartik Purnima, the Gods from the heavens descend on the Earth and are present in all the sacred rivers such as Ganges, Yamuna, Narmada, Krishna, and Godavari.
Therefore, devotees take a holy dip in the rivers on Tripuri Purnima. They perform special pujas on river banks to attract prosperity.
They offer "deep daan" (floating of lamps) on the rivers. Tulsi Vivah ceremony (the auspicious marriage of Goddess Tulsi with Lord Vishnu) is also performed.
Kartik Purnima Significance
This Purnima is celebrated to honor Lord Vishnu, who took incarnation in Matsya Avatar on the day of Kartik Purnima. The Matsya Avatar is considered to be the first incarnation of Lord Vishnu. He assumed the form of a giant fish and rescued living beings, including Manu (the first man), from a great deluge.
There is another popular legend associated with Tripuri Purnima. It is said that Lord Shiva killed the demon King Tripurasura on the day of Kartik Purnima. All the Devas rejoiced at his killing and celebrated the day by lightning "diyas" in heaven. Hence the day is also known as Deva Deepawali.
Kartik Purnima is also the birthday of Vrinda, the Tulsi plant's personification, and Kumar Kartikeya, who is recognized as the God of War and son of Lord Shiva.
It is also believed that Krishna and Radha performed their sacred dance known as Raas Lila on Kartik Purnima's day.
The day has been dedicated to the dead ancestors known Pitrs.
The day assumes even more importance when it falls under the Krittika Nakshatra, whence it is called Maha Kartik.
It is believed that performing Puja, Japa, Tapa, Daan, and Yagna on this day of Tripuri Purnima brings results manyfold compared to other days of the year.
The Kartik Purnima Story or Vrata Katha
Once there used to be a demon named Tripurasura.
He wanted to gain the immense power to conquer all the Devas and rule the heavens.
So, he undertook a severe penance towards Lord Brahma.
All the Devas got disturbed and terrified by his severe penance. They wanted to distract him so that he may leave his penance. They sent damsels of heaven to disturb his penance.
However, Tripurasura's meditative powers were so immense that none could distract him the least.
Finally, Lord Brahma appeared before the demon and granted him all the boons he desired. Tripurasura wanted that any of the Devas or humans should not kill him. His wish was granted.
Tripurasura started to trouble the world and conquered the heavens with his immense powers from Lord Brahma.
All the Devas were terrified and ran to Lord Shiva for help.
Lord Shiva promised to help them and waged war against the demon king Tripurasura. At last, Lord Shiva killed the mighty demon Tripurasura.
All the Devas were pleased and started to rejoice. They held a grand celebration in the heavens to mark the victory of good over evil forces. The day was Kartik Purnima when the demon was killed at the hands of Lord Shiva.
This is the popular story or Vrata Katha associated with Kartik Purnima.
Kartik Purnima Vrata
Devotees keep a day-long fast on Kartik Purnima.
This Vrata begins in the morning after bath and is kept throughout the day until the next morning, stretching over 24 hours.
The Vrata is concluded after performing puja to Lord Shiva or Lord Vishnu.
The Vrata is usually observed without having water or any food item. However, some devotees such as old people or ladies observe the fast by taking water, milk, and fruits except cooked food.
Tripuri Purnima Rituals
On the Kartika Purnima day, devotees go to the rivers and take a ritualistic bath. It is known as 'Kartik Snana.' It is considered highly auspicious if you bathe in the Ganges River's holy waters on the day of Kartik Purnima.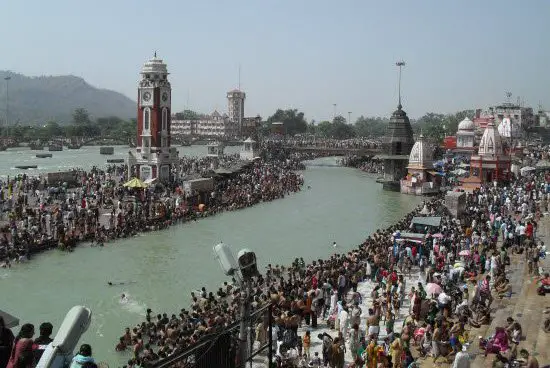 People in Varanasi celebrate the festival of Tripuri Purnima by lighting diyas in their houses and around the banks of the River Ganges.
It's a spectacular sight to watch the Ghats of Ganges (Varanasi) on the day of Tripuri Purnima. It's a pure visual treat.
Devotees visit Lord Shiva temples and light lamps near the Shiva Lingam. They perform Rudra Abhishekam and bathe the Shiva Lingam with milk and honey.
Devotees also observe a day-long fast. Tripuri Purnima is considered very auspicious and next only to Maha Shivratri by Lord Shiva devotees. They carry images of Lord Shiva in big processions.
This Purnima is also considered auspicious for performing Satya Narayan Swami Puja or Vrata. The Hindu scriptures say that Kartik Purnima is one of the most loved days of Lord Vishnu. So, devotees perform Satya Narayan Vrata on Kartik Purnima. People also place diyas or lamps under the Tulsi plant and Amla trees.
Devotees gather in temples and offer food to the deities in the form of Annakuta. They worship Lord Vishnu.
Any act of violence (himsa or hinsa) is prohibited on this day. People do not indulge in shaving, haircutting, plucking flowers and fruits, cutting trees, cutting crops, and even sexual union.
Moreover, People take donations and perform charity. For example, they feed Brahmins, donate Cows, and keep fast on the day of Kartik Purnima.
Kartik Purnima also has a close association with Prabodhini Ekadashi. The Prabodhini Ekadashi marks the end of Chaturmas, a four-month period during which Lord Vishnu is believed to sleep. Prabodhini Ekadashi is the day when Lord Vishnu rises from his four-month-long sleep.
Many fairs that get started on Prabodhini Ekadashi end on Tripuri Purnima. The Pushkar fair and the Pandarpur fair are world-famous and are held from Prabodhini Ekadashi till Kartik Purnima.
The fair is organized in honor of Lord Brahma. It is a large gathering of artisans, craftsmen, and merchants from all across India. They exhibit and sell their unique and beautiful pieces of work, including clothes, accessories, utensils, jewelry, gift items, crafts, snacks, sweets, and pickles.
Kartik Purnima Puja Vidhi
On the day of Kartik Purnima, take a holy dip in a sacred river near your city, town, or village. According to Hindu scriptures, taking a holy dip in the Ganges' sacred waters is considered auspicious.
Clean your home as well as the Puja place
Bring home a picture or idol of Lord Shiva or Lord Vishnu.
Decorate the idol with flowers, sandal paste, turmeric paste, Vermillion, and fragrant materials
Light a ghee lamp
Light some incense sticks or Dhoop
Ring the bell
Sprinkle water over the puja place
Start the puja by offering prayers to Lord Ganesh.
Chant the names of Lord Shiva or Lord Vishnu
Offer flowers to the idols or pictures of Lord Shiva or Lord Vishnu
You can chant Vishnu Chalisa or Shiva Chalisa.
Perform the "Shodasopachar" puja
Now, do Aarti and pray for the wellbeing and happiness of your family and household.
Donate clothes, fruits, food, vessel, money, and other items of utility to the needy and Brahmins. It should be at your convenience.
In the evening, have Darshan of the rising moon and offer "Arghya" (water) and flowers. Do Namaskar.
Kartik Purnima Date 2022
When is Kartika Purnima 2022?
Kartik Purnima or Kartik Poornima will be celebrated on 8th November 2022 Tuesday
Purnima Tithi Begins: 04:15 PM on 7th Nov 2022
Purnima Tithi Ends 04:31 PM on 8th Nov 2022.
Kartik Purnima is a very significant festival of the Hindus. It is celebrated as Deva Deepawali – the festival of lights of the Gods.